Start a Blog and make money blogging following the 7 straightforward and easy-to-follow steps listed below. It's the most comprehensive and ultimate guide to start a WordPress blog or site in 2021.
Why I Should Start a WordPress Blog?
You may be wondering why I should start a blog? What're the benefits of blogging? Well, you should start a blog if:
You love writing.
Blogging inspires you.
You want to make money blogging.
Working from your home is your ultimate dream and passion.
You have a job and want to make some extra money by side hustling.
You're like me, who get inspired by other awesome bloggers.
Apart from the above reasons, there are many other excellent reasons to start a WordPress blog today and be your boss.
Why WordPress?
WordPress is a top website building platform and CMS (Content Management System) among Drupal, Joomla, Blogger, Wix, and Squarespace, etc.
Take a look at the CMS Usage Distribution graph below by BuiltWith.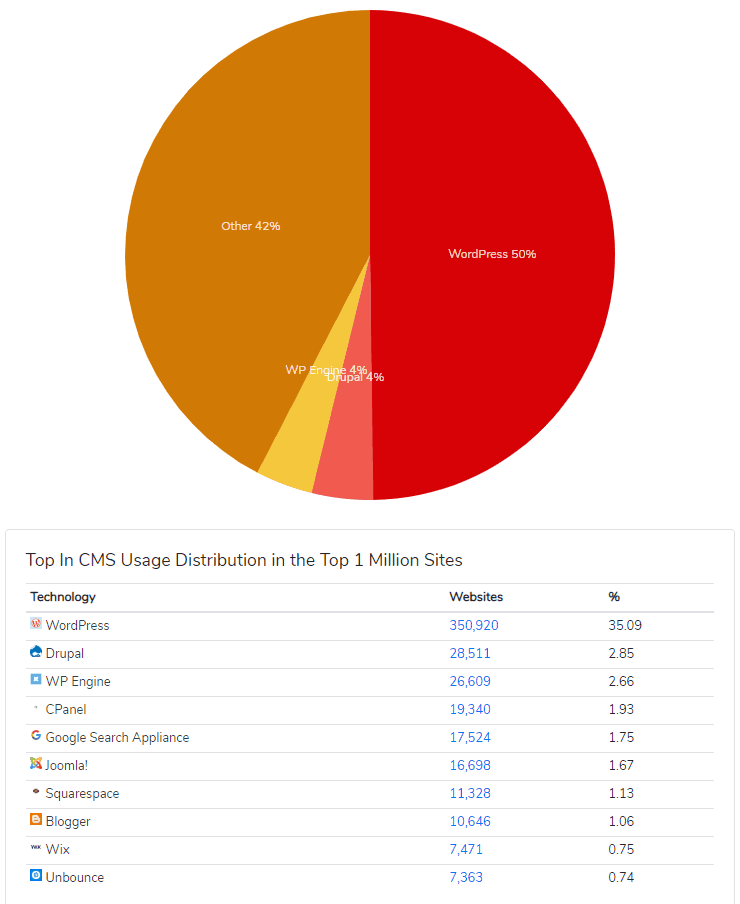 As you can see from the graph above, WordPress is used by over 35% of all the websites, and no other CMS or website builder even comes close to it in terms of popularity and usage distribution.
Most people use WordPress to create their websites or blogs because it's completely free and user-friendly.
Unlike other website builders, it's flexible enough to create any website or blog. Be it a personal blog, an eCommerce store, a popular television network like BBC America, or a popular social media news platform like Facebook Newsroom. Everyone uses WordPress and loves it.
So, Are you ready to start a WordPress blog? Let's go!
Step 1:

Choose Your Blog Niche Wisely

Niche means a topic your blog is about, for example, dog food and dog training etc. A right niche selection is very crucial to the success of your blog or website.

You need to be very wise when choosing a niche for your blog. Here a few things you need to consider when you're choosing a niche for your blog.
Ask Yourself, What Am I Passionate About?
Finding what you're passionate about should be your top priority when you're figuring out a niche for your blog. You need to be excited about the topic (niche) of your blog. Otherwise, you will get bored soon. And you might run out of ideas for posting content or blog posts because you weren't passionate about your blog niche.
Most of the newbie bloggers fail at this step. They choose the wrong niche just because many other bloggers are making money in that niche.
If you choose the wrong niche, then the excitement you had at the time of launching your blog will be over soon, and ultimately you'll find it hard to stay motivated.
Choosing a niche is very crucial to the success or failure of your blog. So ask yourself, What Am I Passionate About?
If you've figured out what you're passionate about, then the next step is to search the importance and value of that niche.
Is There a Demand for My Niche?
Once you've figured out a niche of your blog, then the next thing you need to look for is the demand of your niche. If no one is interested in it, then ultimately you're not going to make much money from it.
You can easily do that by typing your niche in google search, and search results will immediately tell you the demand of your niche.
Step 2:

Pick a Domain Name

Picking a domain name is as important as choosing a niche. When you're looking to select a great domain name for your blog, keep following things in mind.
Keep It As Short As Possible
Your domain name should be as short as possible. But in today's age, all short domain names are already taken, so you can use a 3-4 word domain if it makes a sequence of words.
Make Sure That Your Domain Is Easy to Speak and Remember
Make sure that the domain name you picked is easy to speak and remember.
Don't complicate your domain name, and don't include too many keywords, just come up with a simple and easy to spell name.
Use a Domain Name Generator
If you're run out of ideas for selecting a domain name and need some ideas for brainstorming, then you can use a domain name generator like Nameboy. It's awesome.
If you've come up with a domain name which, is 1) Short (or Not too long). 2) Easy to Speak and 3) Easy to write, then you've nailed a perfect domain name. Boom!
Now let's go to the next step (which is also very important) where we choose the Best WordPress Hosting for beginners.
Step 3:

Choose a WordPress Hosting

There are many web hosting companies out there, and each company promises that they are the best.

But I don't want you to get stuck to figure out which is best. Instead, I have my top recommendations for beginners when it comes to WordPress hosting.

I recommend two web hosting companies to beginners based on their budget.
1. Namecheap. (Budget below $30)
Namecheap is good for absolute WordPress beginners whose budget is less than $30, and they are fine with the average WordPress support and hosting in the beginning.
If you want to choose Namecheap then follow this guide to signup for Namecheap and install WordPress using them.
2. SiteGround. (Budget around $50)
SiteGround is best for those who are willing to spend a little more on the hosting, but they want quality WordPress support and hosting right from the first day.
SiteGround is currently the best WordPress hosting and is officially recommended by WordPress.org, and their support is top-notch.
Every WordPress beginner needs excellent support from their hosting company during the initial stages of running a WordPress website or blog.
And that's why I recommend SiteGround to every WordPress beginner because no other hosting company can match the level of support and professionalism that SiteGround provides.
Select Your Hosting Type
Go to SiteGround and navigate to WordPress Hosting box and click on the "Get Started" button.
Choose Your Plan
SiteGround has three plans to choose from. (i) StartUp (ii) GrowBig (iii) GoGeek.
Their most basic plan is StartUp, and this is precisely the plan which I recommend to WordPress beginners.
Navigate to the StartUp plan and click on the "Get Plan" button.
As you can see above, with their StartUp plan, you get 1 Website, 10GB Web Space, and 10,000 Monthly Visits, and that's all a beginner needs to start their WordPress website or blog.
Enter Your Domain Name
Be careful when you choose a domain name, because your domain will represent your business, brand, or blog for years.
If you're in this step, then I hope you've already picked a great domain name, so register it below.
Select 'Register a new domain' and enter your domain name and click on the "Proceed" button.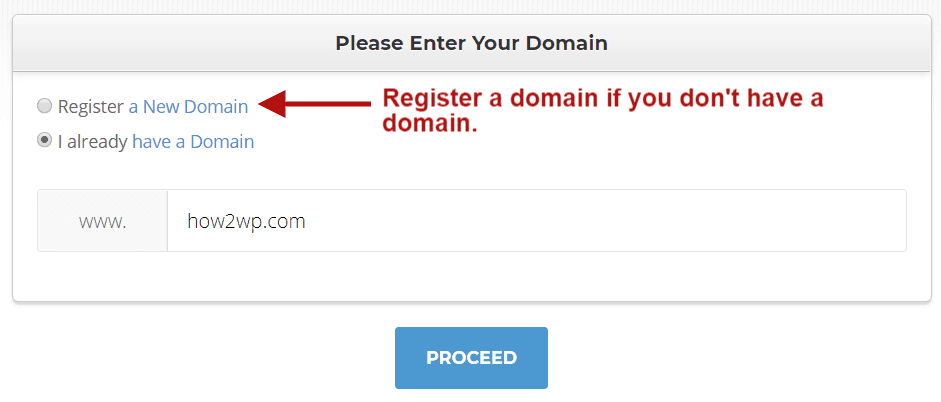 Enter Your Account Details
Enter your account information and client information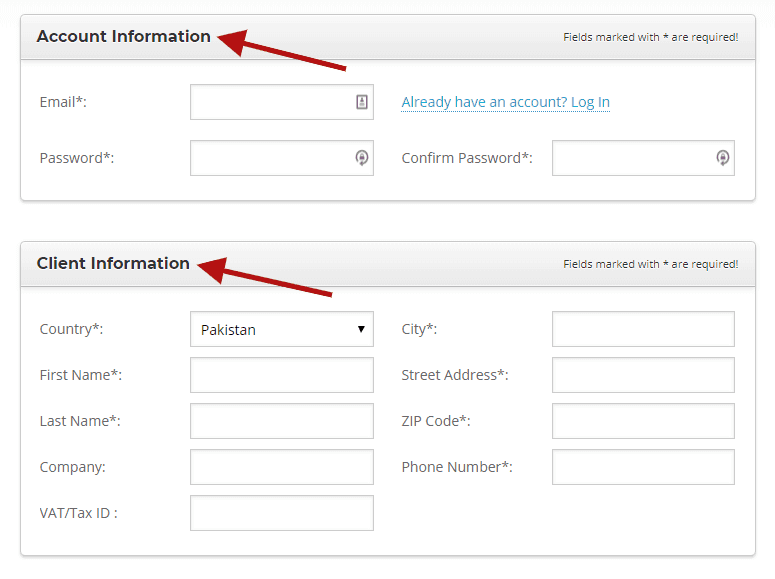 Fill out your Account Information and Client Information details in your Account Details section.
Next, Enter your Payment Information

Enter your Purchase Information
Verify your purchase information like the hosting plan and hosting period above. If you have enough budget, then 36 months plan is recommended because you'll get a considerable discount.
At the very bottom, there are some "Extra Services" listed, but you don't need them in the beginning.
Finally, reverify your information and click on the "Pay Now" button.

Make sure you check the "Terms of Services" and "Privacy Policy" box.
Congrats, you now have got the best WordPress hosting. All you need to do now is install WordPress and get rocking.
Step 4:

Install WordPress

I'm a big believer in adequately utilizing the services and products I pay for. So why bother to install WordPress yourself when SiteGround's fantastic support team can install WordPress for you?

Contact SiteGround Support and Ask Them to Install WordPress for you

Login to your SiteGround account and then go to this page to contact their live support and ask them to install WordPress for you. And they will be more than happy to do that.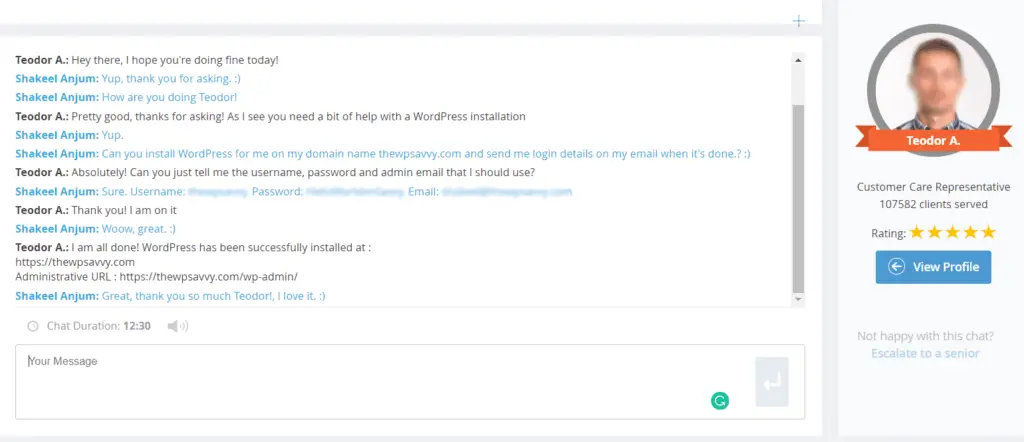 Boom. As you can see above, the SiteGround support representative installed WordPress for me in just a few minutes. I provided login details I wanted to use, and he installed it quickly. Easy Peasy. 🙂
Step 5:

Select a Theme

A WordPress theme is very significant for the success of your blog. Apart from your content, It is the design of your WordPress blog, which attracts readers and urges them to love your blog.

Your great content is almost useless if you don't have a good WordPress theme to help you design your content and display it in the best possible way.
Which WordPress Theme You Should Choose
I'm using Divi, the most popular WordPress theme by Elegant Themes, on my blog. And I highly recommend it to every WordPress beginner for the following reasons.
How-To WP uses and recommend Divi
Divi is a very flexible theme, and you can create any website or blog using Divi like eCommerce store, Photography website, Magazine type blog, or a blog like How-to WP. Divi is currently the world's best multipurpose WordPress.
If you're a web designer, you can use Divi to create client sites, as well.
Why Divi?
Divi is the most popular WordPress theme, and that's why it has a massive community of Divi users and designers available to help each other. There are plenty of free Divi resources and layouts available.
You can join the Official Divi Theme Users Facebook Group and post your questions there. Someone will have a suggestion or solution to your problem. Moreover, you can also join the How-To WP Community Facebook Group and ask WordPress and Divi related questions there. I will try my best to help.
Divi Bonuses
Another advantage of purchasing your theme from Elegant Themes is that with just a single license, you get access to their top 5 products listed below.
Extra Theme
Extra is another excellent theme by Elegant Themes. It's the perfect WordPress theme for bloggers.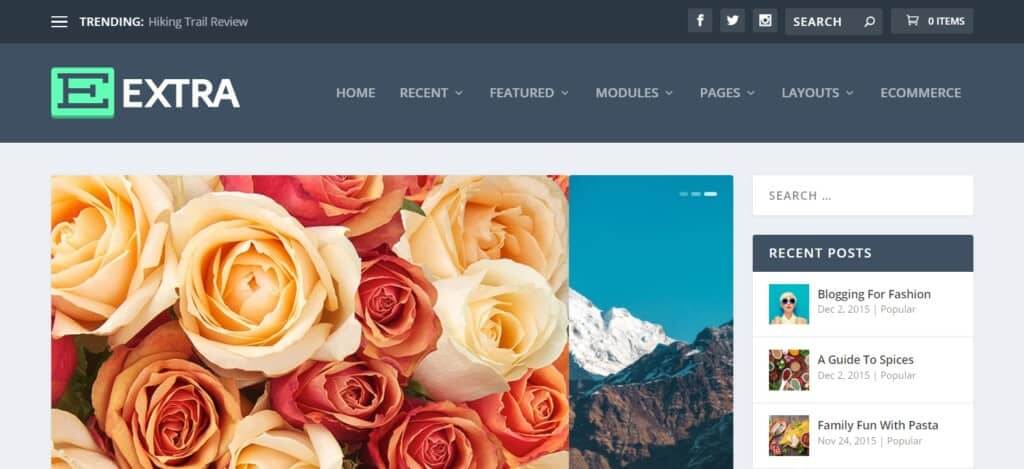 Bloom
Bloom is a top WordPress plugin for creating outstanding email Opt-in forms and lead generation pages. I'm currently using it on my blog; you can see it below my post content.
You can create the following type of Opt-in forms using Bloom.
Pop-up
Fly-In
Below-Post (I'm currently using it on my blog)
Inline
Locked Content
Widget
Monarch
Monarch is another great plugin by Elegant Themes for adding social media share icons and social media follow buttons to your WordPress site or blog.
You can see it live on my blog in the sidebar or at the start and bottom of my post content.
You can place social media share icons, and social media follow buttons at the following locations using Monarch.
Sidebar
Inline
Pop-up
Fly-In
Media
Divi Builder
Divi Builder is a great WordPress drag-and-drop page builder to create outstanding posts and pages in WordPress. It's built-in to the Divi theme, but you can also use it with other WordPress themes as well.
Install Divi
Login to your WordPress dashboard and Navigate to "Appearance > Themes" and click on the "Add New" button.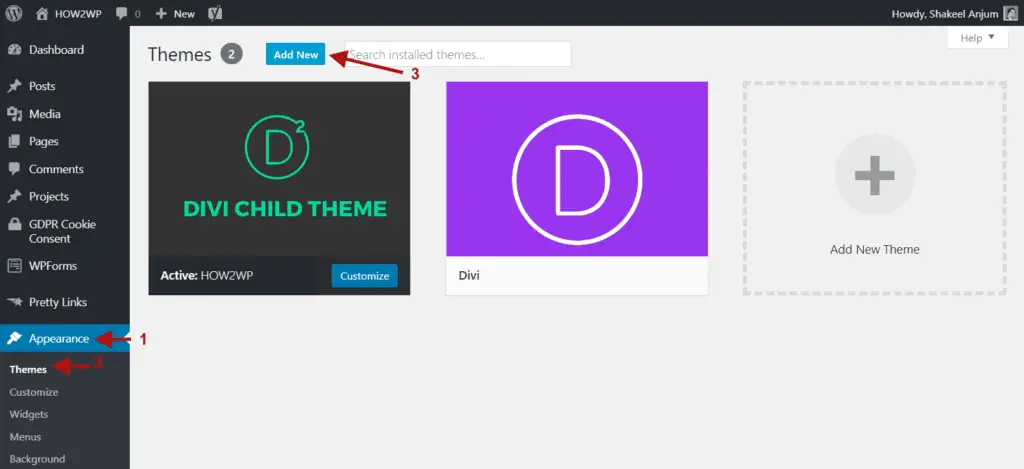 Once you click on the "Add New" button, the next page will open where you can upload your theme.
On the Next page, click on the "Upload Theme" button, and then the below box will appear.
Click "Choose File" and then click on the "Install Now" button to install your Divi theme or any other WordPress theme.
Boom, you've just installed the most popular WordPress theme called Divi.
Explore Divi Theme Options and Divi Theme Documentation
Navigate to "Divi > Theme Options" and explore Divi options and add your details.
Divi Theme Documentation
I'd also recommend you to explore Divi Theme Documentation, and there are a lot of Divi tutorials and resources available.
Step 6:

Install Essential WordPress Plugins

WordPress is great, but it is WordPress Plugins, which makes it the top choice over other platforms.

So I'd recommend you to Install these Essential WordPress Plugins to get started and make the best use of WordPress.
Free Plugins
Akismet Anti-Spam – It secures your blog from spam comments.
Rank Math SEO – It's the best SEO plugin for WordPress for beginners because it provides more free features than Yoast and is more user-friendly than Yoast.
WPForms Lite – WPForms is the most beginner-friendly Drag & Drop WordPress contact form plugin.
WP Fastest Cache – It's the fastest caching plugin to optimize the speed of your WordPress blog or website.
ShortPixel – ShortPixel is an Image Compression and Optimization plugin, and it improves the speed of your blog or website by reducing the file size of images or other media. It provides three types of image compression services.
WordFence Security – WordFence is the best WordPress Security plugin that secures your website against attacks and malware.
GDPR Cookie Consent – This plugin adds a subtle banner to your website header or footer to show your compliance status regarding the new EU Cookie Law.
Premium Plugins
At this stage, I would recommend two premium plugins that come with your Elegant Themes license.
Bloom – Bloom is a simple and easy-to-use email Opt-in plugin to help you quickly grow your mailing list.
Monarch – Monarch is the best social media plugin to add social media share icons and social media follow buttons on your website or blog.
Step 7:

Start Writing Awesome Content

Create these essential and most important pages of your website or blog.
Homepage
About Page
Contact Page
Privacy Policy
That's all, you've selected a domain name, bought the best WordPress hosting, Installed WordPress, and the most popular WordPress theme called Divi and Installed essential WordPress plugins and setup most important pages of your blog or site. So you're good to go!
Content Is King
The next big thing you should do is writing excellent content. Write some great content today, tomorrow, or whenever you can, which should make other's life easier, help them achieve something great. Then nothing can stop you from making money blogging and becoming a pro blogger you ever dreamed.
Bonus: Make Money Blogging
There are many reasons to start a blog, but making money is the most obvious. So you need to consider this right from the start. I would say you can start making money from your very first post if you write great content and monetize it properly.
Just recommend a product related to your niche (which you use urself), that should help others or make their life easier in some way and add your affiliate link into it, and you can start making money.
That's just beginning. You can recommend more products and consider more money ways as your blog grows.
Top Ways to Make Money Blogging
Some of the top ways to make money blogging are:
Displaying Ads via Google Adsense
Affiliate Marketing (Recommending a Product or Service)
Sponsored Posts or Content
Important Note: Before you start making money, make sure that your content is of good quality, and it helps your readers to overcome a problem or make a decision which they don't repent later.
Frequently Asked Questions (FAQs)
Is WordPress blog free?
WordPress.com is free and requires no financial investment for you to start your business. WordPress.org, on the other hand, is a self-hosted platform that requires hosting.
How bloggers get paid?
Bloggers get paid by having a revenue-sharing agreement with the website they're writing for. It's usually a percentage of the advertising revenue generated by the website especially using Google Adsense. Sometimes they'll be paid a flat rate for writing a specific number of articles or posts.
How difficult is WordPress?
For years, WordPress has been the go-to blog publishing system. However, many people don't know that it is also one of the easiest to install, update, and customize. If you've been looking for an easy way to start a blog or website and you're comfortable with the idea of using WordPress, you're in luck.
What blogs make the most money?
The blogs that make the most money belong to the following niches: finance, online education, insurance, legal, and marketing, and advertising.
Happy blogging. 🙂
I hope this article helped you, but if you face any trouble, you can ask me in the comments section below or contact me directly and I'd be more than happy to guide you through the process. 🙂
If you liked this article, please share it with your friends and subscribe to the How-To WP Newsletter below to get the latest WordPress tips, tricks and how-to tutorials directly into your inbox.
Sharing is caring
Please share this article to spread the word. 🙂